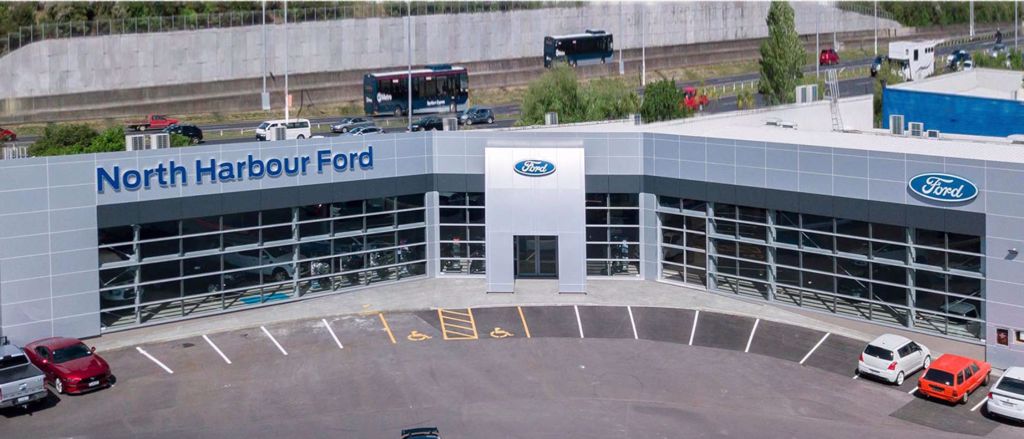 The Ford Store. A state of the art new Ford Retail Store
Australasia's largest indoor Ford showroom is now open. The Ford Store is located at 11 Link Drive, Wairau Valley, Auckland.
The Ford Store, AHG NZ's newest dealership is a technology-led, custom-built 2,000m² climate-controlled showroom that can comfortably house between 35-40 vehicles indoors.
The concept behind the store revolves around the premise that visitors are not merely customers, but guests. The store has been designed specifically around this notion and aims to redefine the guest experience via a number of innovative ways including transforming traditional sales roles into brand ambassadors, removing all desks from the showroom and equipping staff with IPads rather than computers.
Inspirational Henry Ford quotes are displayed on the walls to remind us how relevant his words are today, some 100 years on.

In further connection to the blue oval's history, the showroom features bespoke furniture personally chosen by Elena A. Ford, Henry Ford's great great granddaughter and Vice President, Global Dealer and Consumer Experience of Ford Motor Company.

Supported by Ford New Zealand and Ford Asia Pacific, The Ford Store includes proprietary interactive and touchscreen technology allowing guests to build and customise their own Ford vehicles.
North Harbour Ford Dealer Principal Steve Fraser recently sat down with Autotalk.co.nz to discuss the new Ford Store.
"We've named ourselves the Ford Store by North Harbour Ford just to get away from that traditional dealership. The cars are going to be beautifully presented," he boasts. "If someone's bought their new pride and joy, they can go through a lovely experience; it's in a dedicated area, where they can actually be shown around the car in a nice quiet environment."
"The whole idea of the building, we really want to make it an experience -a place to go, a place to come and enjoy the dealership, see cars, look at cars, it's not necessarily just to come and buy a car. We mean that passionately. It's a destination. We want people to feel welcome coming in."
Check out the video from Auto Media Group for another interview with Steve.


Contact the Ford Store